Sunderbans

At the tip of the Ganges is a mystic mangrove forest on the myriad of islands. Impenetrable mangrove forests, winding rivers, Lush Sundari trees, water changing its colour at every creek from muddy river to emerald blue sea, narrow creeks to several miles wide rivers, where the man and man eater s eat fish to survive, crabs climb the tree, tiger swim long distances and mighty crocodile bask in the sun.

This is a wonderland indeed and to be explored through waterways only. From the north to the south east to west, the cruise transverses the entire area anchoring at the most exotic waters.
Sunderban Tiger reserve
Mangrove forest walking
Experiencing the village life
Visit to the local fish market
Folk theatre performance by the Villagers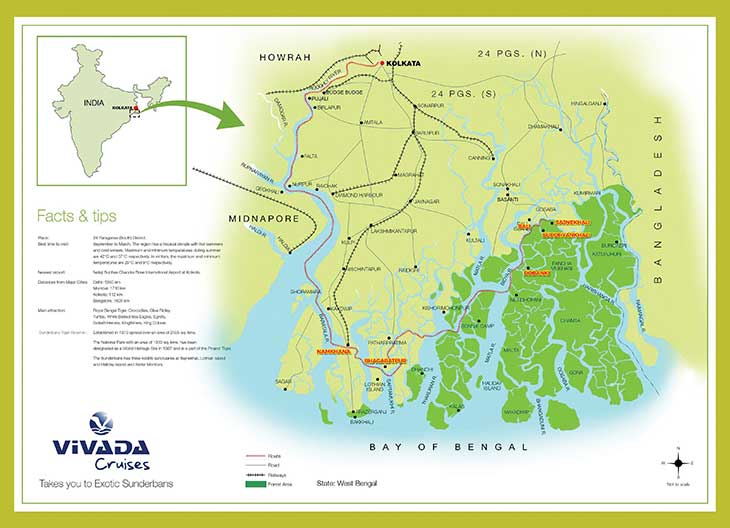 C_12 - Kolkata – Sunderbans – Kolkata 02 NIGHTS / 03 DAYS
Embarkartion – At 10.00AM Vivada jetty, Millennium park ,Kolkata
Disembarkation - At 04:00PM Vivada jetty, Millennium park ,Kolkata.


Day 1

Reporting at 10:00 AM.

Welcome drinks will be served.

On arrival registration and room allotment

Vessel will sail at 10:00 AM.

Breakfast on board.

You can enjoy the indoor games and board games.

After 8 hours long cruise vessel will reach at the Gate way of Sunderban i.e. Namkhana .

Evening entertainment program – on board

Vessel will drop the anchor for the night

Buffet Dinner at 09.30 PM.

Rest for the night

Day 2

Breakfast at 08:00 AM.

After breakfast 1st visit to Bony Camp (Tallest watch tower in the Sunderban) also a tiger prone area.

After that creek ride through the thick mangrove forest by a small boat

Back to vessel

Buffet lunch at 01.00 PM.

2nd visit to Saptamukhi River

3rd visit to Bhagabatpur crocodile project - famous for Estuarine crocodiles

Vessel will drop the anchor for the night in a suitable place.

Buffet dinner and rest for the night

Day 3

Vessel will start sailing back towards Kolkata

Breakfast at 08:00AM

Free time for personal photo shoot, quiz etc.

Lunch onboard by 01:00PM.

Disembarkation at Kolkata approx by 04:00PM.
Note: The time of excursions may vary depending upon the tidal and other environmental conditions.
SAILING DATES
C_12: Kolkata-Sunderbans-Kolkata
1 OCT 2021 to 3 OCT 2021

No of Nights 2

22 OCT 2021 to 24 OCT 2021

No of Nights 2

5 NOV 2021 to 7 NOV 2021

No of Nights 2

4 DEC 2021 to 6 DEC 2021

No of Nights 2
Terms and Conditions apply
Vessel sailing dates may be withdrawn at any time due to Govt. requirement or emergencies beyond the control of the ¨Company¨ with or without prior notice. In that case full advance money will be refunded by the ¨Company¨ without any compensation to the ¨User¨.
We shall confirm you the sailing, 10 days prior to the sailing date. Under low participation in a particular sailing date or any technical issue, the company may cancel a sailing date prior to the date of commencement.